The Waterbury Public Schools Calendar is designed to provide students, families, and staff with important information about the school year. The calendar includes important dates such as the first and last day of school, holidays, and early dismissal days. It also includes information about parent-teacher conferences, report card distribution, and other important events.
Waterbury Public Schools Calendar 2023-24
Waterbury Public Schools is a school district located in Waterbury, Connecticut. The district serves over 21,000 students in pre-kindergarten through 12th grade and operates 21 elementary schools, 5 middle schools, 4 high schools, and 1 adult education center.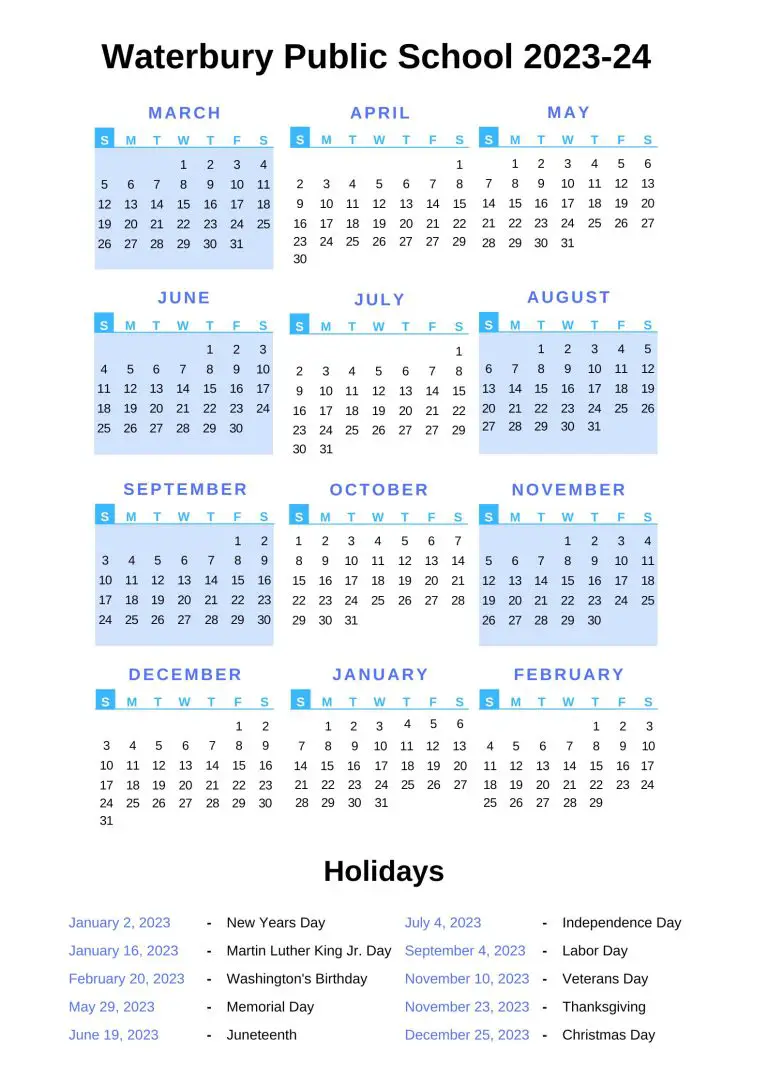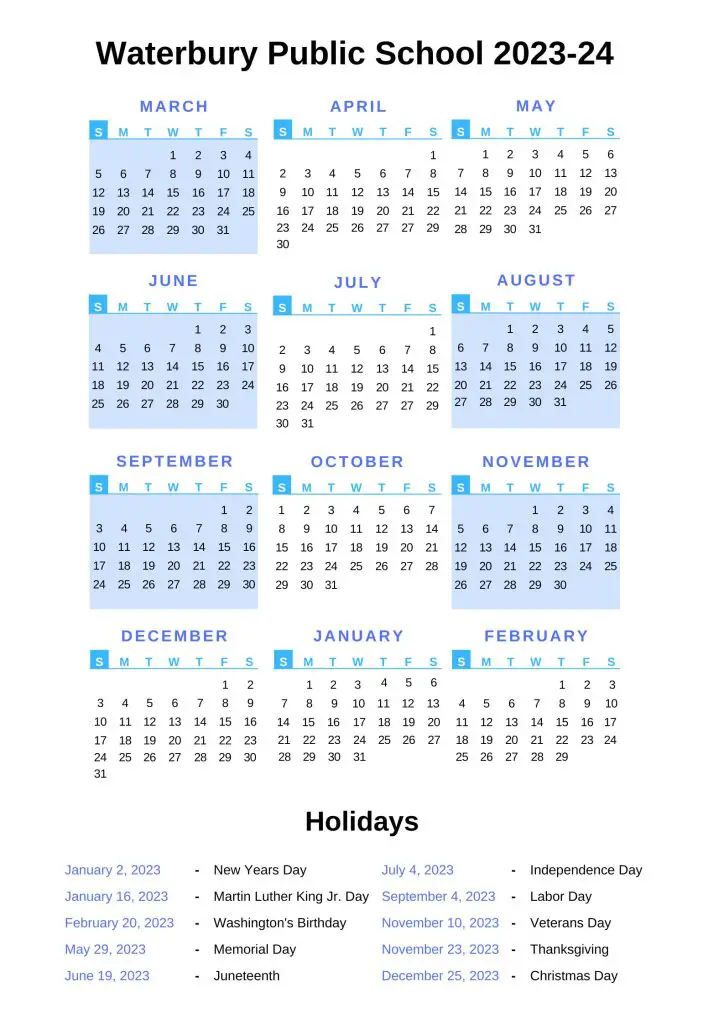 The district has a diverse student population, with students from a variety of ethnic and socio-economic backgrounds. Despite this diversity, Waterbury Public Schools has a strong commitment to providing all students with a high-quality education. This is reflected in the district's mission statement, which states that the district is "committed to providing a safe and nurturing environment that promotes academic excellence and prepares all students for college, career, and life."
One of the key ways that Waterbury Public Schools works to achieve this goal is through its use of technology in the classroom. The district has implemented a 1:1 device program, which provides all students in grades 3-12 with their own personal devices. This allows students to access digital resources and engage in interactive learning activities, which can help to improve student engagement and achievement.
In addition to using technology to improve learning outcomes, Waterbury Public Schools also places a strong emphasis on providing students with a well-rounded education. This includes offering a wide range of extracurricular activities, such as sports teams, music and theater programs, and clubs. These activities not only provide students with opportunities to explore their interests and passions, but they also help to build important skills like teamwork, leadership, and time management.
WPS Holidays 2023
Waterbury Public Schools is also committed to providing support for students who need it most. The district operates a number of programs and services that are designed to help students who are at risk of falling behind academically or who have special needs. These include programs for English language learners, special education services, and support for students who are experiencing homelessness.
Despite the many challenges that the district faces, Waterbury Public Schools has a strong track record of success. The district has made significant gains in student achievement in recent years, with a number of schools earning recognition for their high performance. The district's graduation rate has also improved in recent years and is now higher than the state average.
| | |
| --- | --- |
| Holidays | Date |
| New Year Day | Jan 2, 2023 |
| Martin Luther King Jr. Day | Jan 16 2023 |
| Washington's Birthday | Feb 20, 2023 |
| Memorial Day | May 29, 2023 |
| Juneteenth | June 19, 2023 |
| Independence Day | July 4, 2023 |
| Labour Day | Sep 4, 2023 |
| Veterans Day | Nov 10, 2023 |
| Thanksgiving | Nov 23, 2023 |
| Christmas Day | Dec 25, 2023 |
Overall, Waterbury Public Schools is a district that is dedicated to providing all students with a high-quality education. Through its use of technology in the classroom, emphasis on a well-rounded education, and commitment to supporting students who need it most, the district is working to ensure that all students are prepared for college, career, and life.
Waterbury Public Schools Holiday Calendar 2023-24
One of the key features of the WPS calendar is its flexibility. The district recognizes that families have different needs and schedules, and as such, the calendar is designed to accommodate those needs. For example, the calendar includes a number of long weekends and school holidays, which can provide families with an opportunity for a short break or a chance to plan a longer vacation.
The Waterbury Schools Calendar also includes a number of important dates related to the district's academic programs. These include the dates when standardized tests are administered, as well as the dates when progress reports and report cards are distributed. This information is critical for families and students, as it provides them with a clear understanding of how they are performing academically and what they need to do to improve.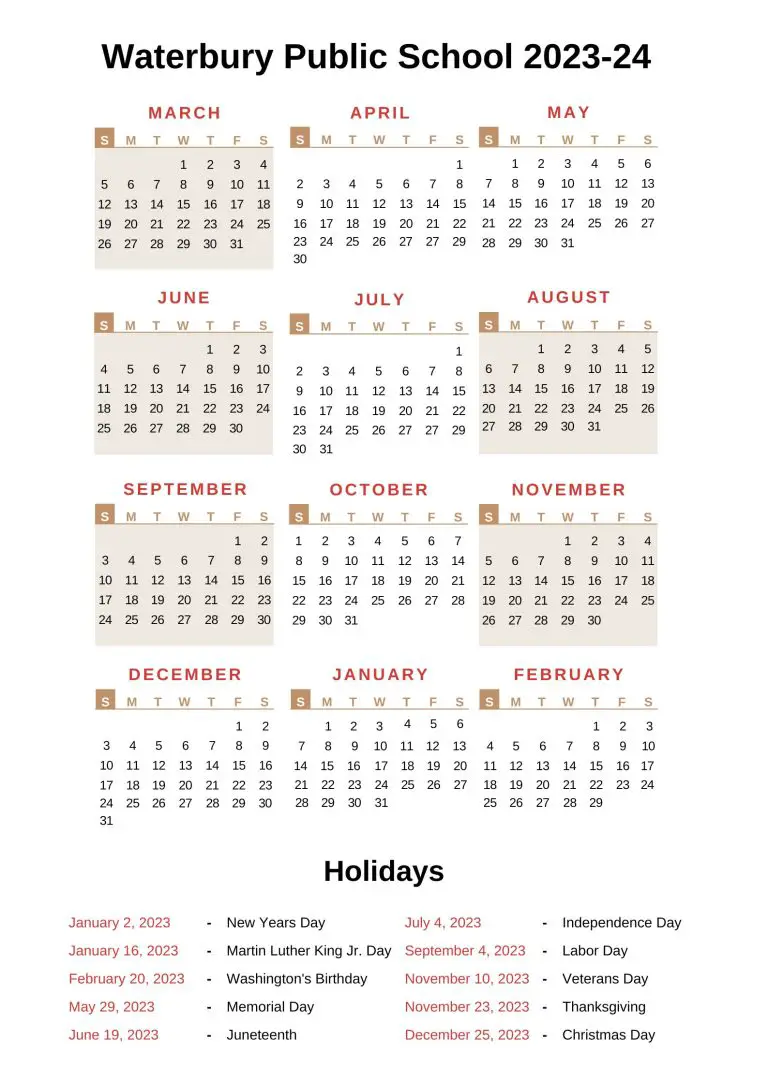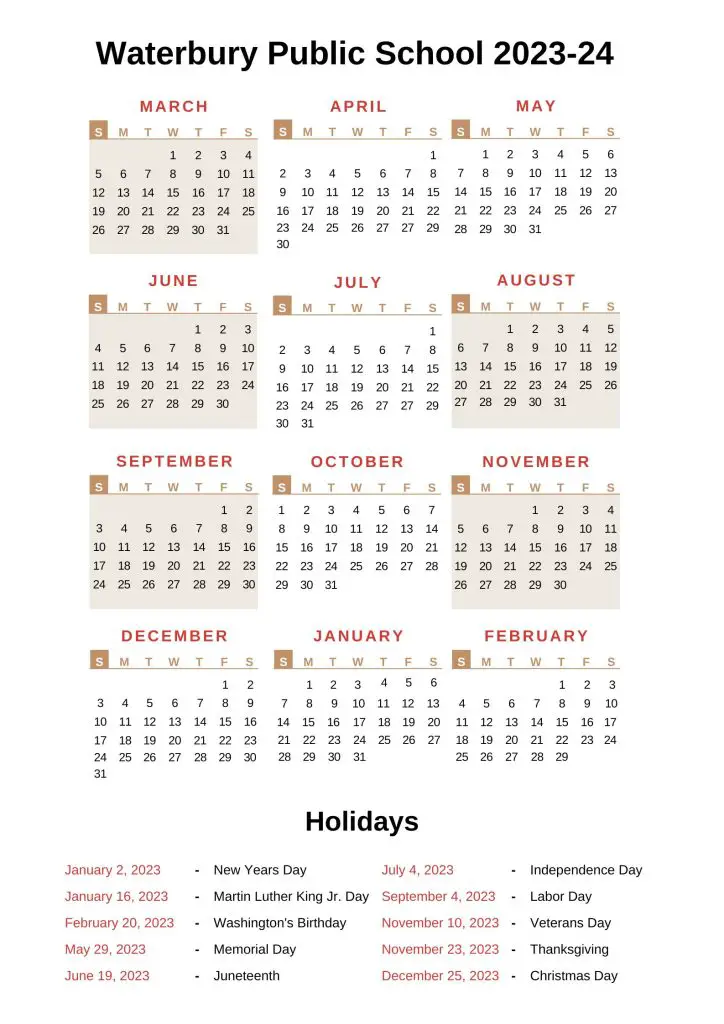 The calendar also includes information about important events and activities taking place throughout the district. These events are not only fun and engaging for students, but they also provide an opportunity for families to get involved in the school community. Some examples include open house events, school fairs, and sporting events.
Overall, the Waterbury Public Schools calendar is an important tool for families, students, and staff. It provides everyone with the information they need to stay informed about the school year and helps to ensure that everyone is on the same page when it comes to important events and activities. With its flexibility and accessibility, the calendar is designed to meet the needs of everyone in the district.