Arlington Public Schools Calendar: Arlington Public Schools (APS) is a public school district located in Arlington, Virginia, United States. It is the 14th largest school district in the state, and serves over 28,000 students in pre-kindergarten through twelfth grade. The district operates one early childhood center, 22 elementary schools, 7 middle schools, and 4 high schools. In addition to traditional neighborhood schools, the district also offers several alternative education programs, including a Montessori program, an International Baccalaureate program, and a number of specialty schools.
Arlington Public Schools Calendar 2023-24
The district is accredited by the Virginia Department of Education and has a diverse student body, with students representing over 135 different countries and speaking more than 150 different languages. The district's mission is to provide a high-quality education to all students and prepare them for success in college, career, and life.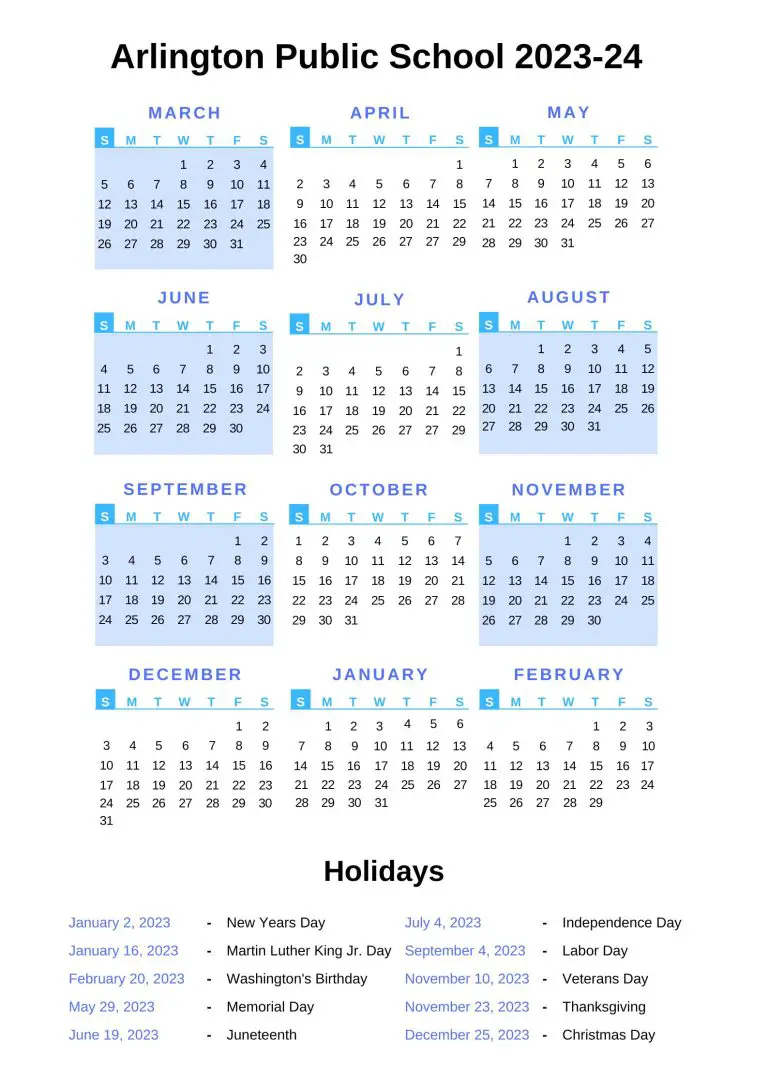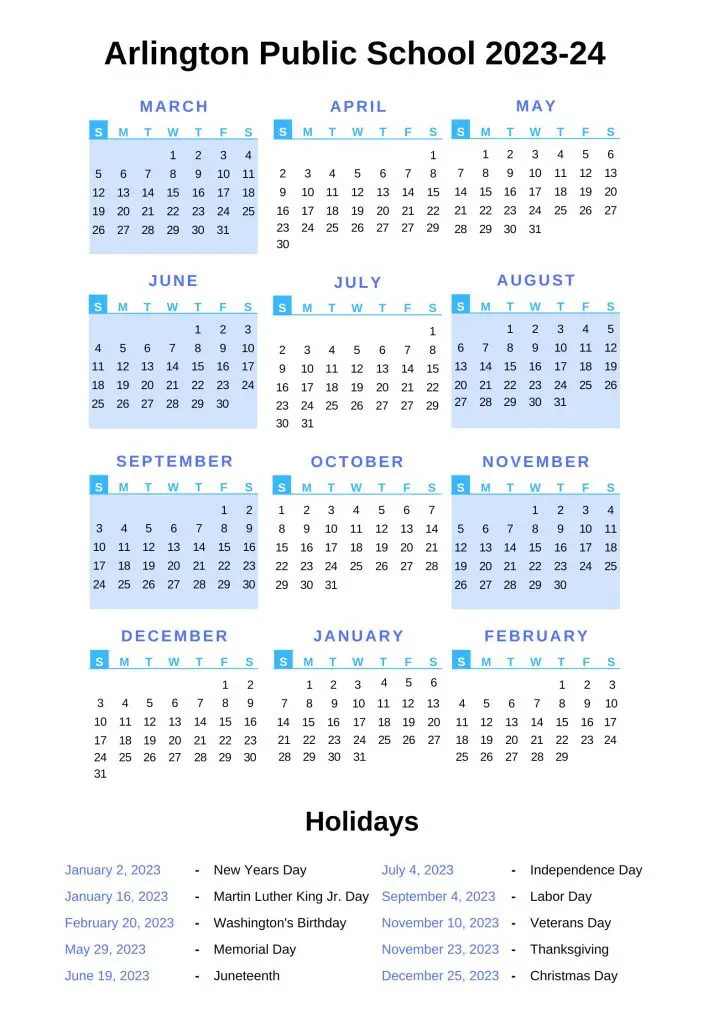 Arlington Public Schools (APS) offers a wide range of courses to its students. The curriculum is designed to meet the needs of all students, including those who are college-bound, career-bound, or pursuing both.
At the elementary level, students receive instruction in core subjects such as reading, writing, mathematics, science, and social studies. They also have opportunities to participate in art, music, physical education, and technology education.
In middle school, students continue to take courses in the core subjects and also have the opportunity to explore elective courses such as language studies, technology education, family and consumer sciences, and health and physical education.
At the high school level, APS offers a wide variety of academic courses, including Advanced Placement (AP) and International Baccalaureate (IB) courses, as well as electives such as art, music, theater, and technology education. The district also offers career and technical education programs in fields such as engineering, healthcare, business, and information technology, and hospitality and tourism.
Arlington Public School Holiday Calendar [APS] 2023-24
In addition to traditional courses, APS also offers various alternative education programs and opportunities for students, such as dual enrollment, online courses, summer programs, and special education services.
Overall, APS provides a wide range of academic, elective, and extracurricular programs, in order to prepare students with the skills and knowledge they will need to be successful in college or in their future careers.
| | |
| --- | --- |
| Holidays | Date |
| New Year Day | Jan 2, 2023 |
| Martin Luther King Jr. Day | Jan 16 2023 |
| Washington's Birthday | Feb 20, 2023 |
| Memorial Day | May 29, 2023 |
| Juneteenth | June 19, 2023 |
| Independence Day | July 4, 2023 |
| Labour Day | Sep 4, 2023 |
| Veterans Day | Nov 10, 2023 |
| Thanksgiving | Nov 23, 2023 |
| Christmas Day | Dec 25, 2023 |
Arlington Public Schools (APS) follows a traditional school calendar, with classes typically starting in late August or early September and ending in late May or early June. The school year is divided into two semesters, with a winter break usually in December and January and a spring break in March or April.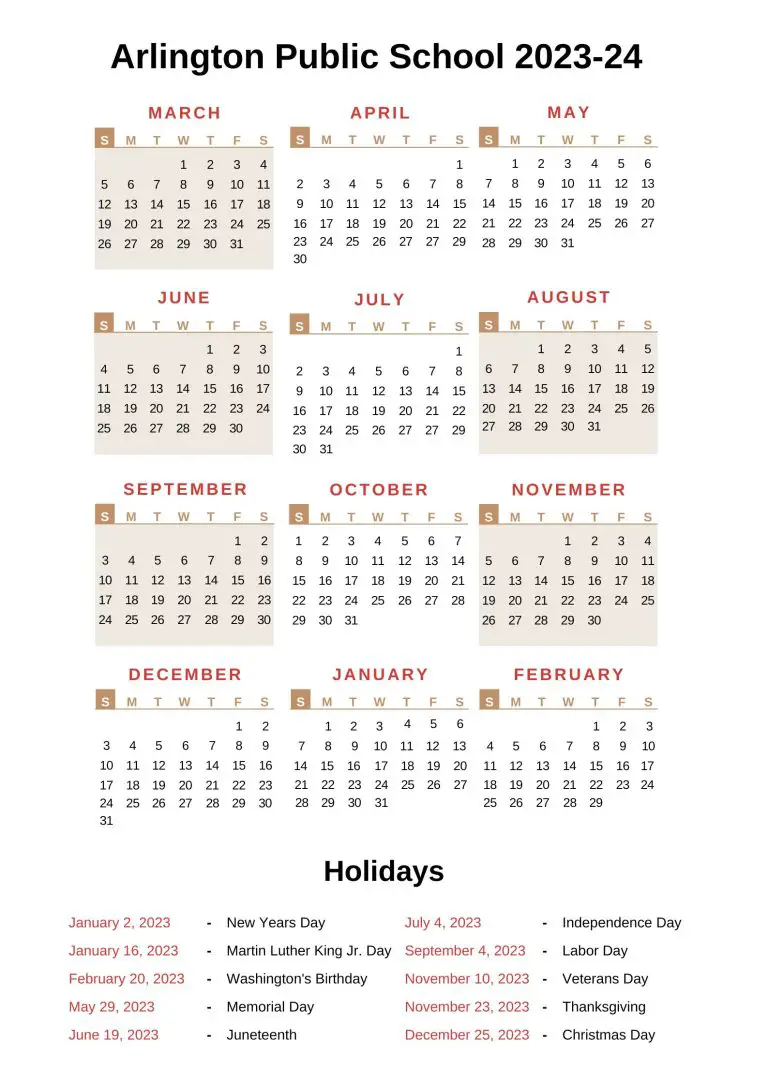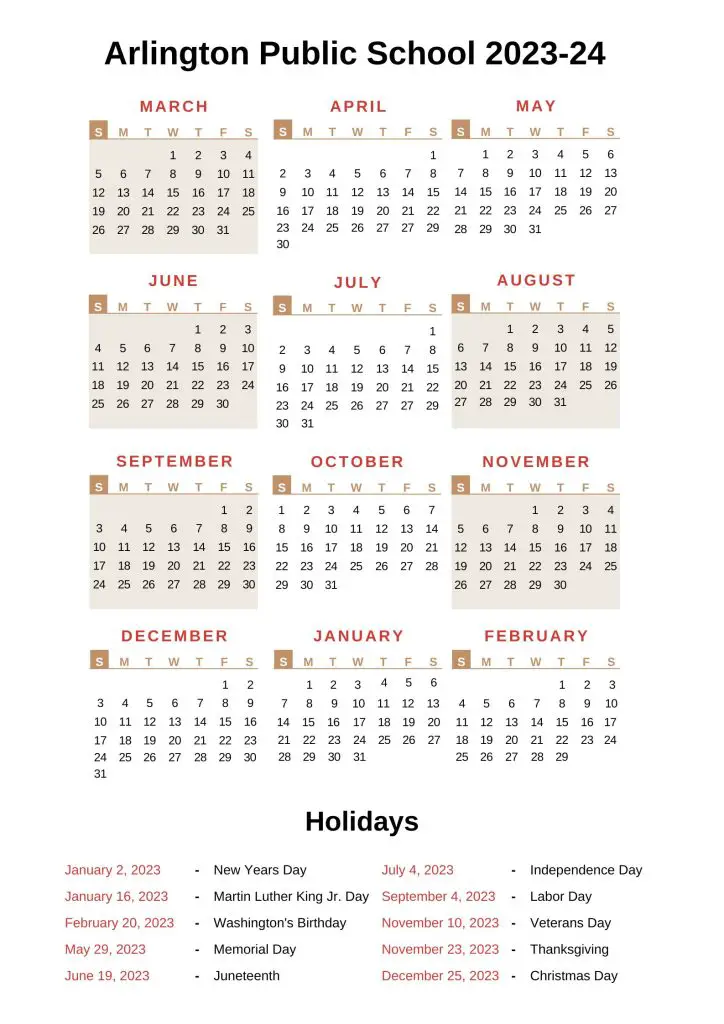 The academic calendar for APS is generally set one year in advance, and it is available on the school district's website. The calendar typically includes important dates such as the start and end of the school year, holidays, parent-teacher conferences, and standardized testing dates.
In addition to the traditional school calendar, APS also provides students with opportunities for additional learning through its Extended School Year (ESY) program and its summer school programs. ESY is specially designed for students with disabilities who require additional instructional time to ensure they make progress in their education. The summer school program provides students with the opportunity to make up courses they have failed or to get ahead in their education by taking courses not offered during the regular school year.
It is also important to note that due to the pandemic, The school district may have some changes and updates to the calendar, check the website or contact the school district directly for most updated information.